Octopus in wine and garlic
– beer pairing suggestions –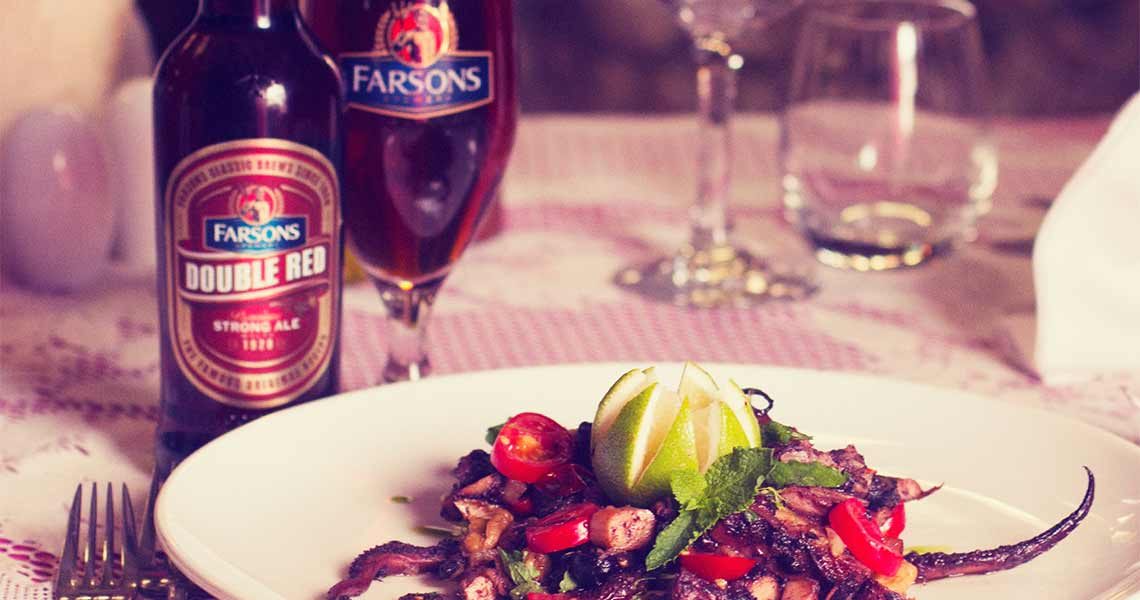 – ingredients –
Ingredients
5 Octopi of 350 to 500 grams
Olive oil (preferably extra virgin)
Balsamic vinegar
Garlic cloves
Glass of white wine
150 grms black olives
100 grms capers
100 grms crushed walnuts
100 grms mixed sultanas and blackcurrants
Fresh bay leafs, mint, marjoram and basil
Fresh parsley
Fresh chilli pepper
1 apple or orange
1 Freshly squeezed lemon
Rock salt and peppercorns
– method –
Method
The choice of quality of the octopus is up to your personal choice.  There are those who prefer a thick and fat octopus, whereas there are others who prefer them smaller.  Our preferred choice for a tender octopus are those of between 350 and 500 grams.
The method of preparation and cooking is of great importance.  It's untrue that the more the octopus is cooked, the more tender it becomes.  In fact the longer it is cooked, the more it becomes like rubber !  Please follow our traditional method of cooking and you will surely be satisfied with the tenderness of the octopus.
After you've cleaned and rinsed the octopi thoroughly, place them whole in a pot with double the amount of cold water.  Add an onion cut it in four, 2 bay leafs, a lemon cut in two, some rock salt and whole peppercorns, some fresh mint and marjoram.  You may also add an apple or an orange cut in two depending on your tastes.  Place all these ingredients on high heat until it starts to boil, and then leave for 45 minutes simmering at medium heat.  Remove the pot from heat and let it cool down naturally.
After the octopi have cooled down you will realise that they are very tender.  You may choose to serve the octopi cold, or heat them with olive oil and the remaining ingredients.  We prefer to serve it cold in the summer months, so chop the octopus in bite sized pieces.  Add the olive oil, preferably extra virgin from Malta or Gozo, add the chopped garlic, parsley, mint, marjoram, white wine, fresh lemon juice, olives, capers, some rock salt and crushed peppercorns. For extra flavour, you may add the sultanas, blackcurrants, walnuts and chilli pepper.  It's your call whether to add some Balsamic vinegar at this stage or at the table.
Credit: Ta'Marija Restaurant